About two month ago I received a letter from the Governor of Mississippi.
Governor Haley Barbour. It was an invitation to come and perform at the Peavey Awards Honouring a Mississippi Grammy. What an honour!
Invited artists was R&B/Pop star Brandy, guitar icon James Burton (played with Elvis), blues legend Mavis Staples, songwriter Paul Overstreet to mention some… and me 🙂 !! It was a privilege meeting them.
Paul is such a songwriter hero! He has written songs recorded by Alison Krauss, George Jones, Randy Travis, Tanya Tucker, Kenny Chesney, Hank Williams Jr., Travis Tritt and many others. Wow…

I also had the honour to receive an award by the Governor himself!
The event was preceded by a reception at the Governor's Mansion, hosted by the Governor and First Lady.
When we first arrived at the Mansion we mingled with the Governor and all the other performing artists.
The Mansion was beautiful…looks like The White House, but smaller. The fence that surrounds the Mansion was covered with huge banners of all the artists. Yeah :).
Then it was time to receive the award. That was a proud moment.
Thank you God for blessing me so much.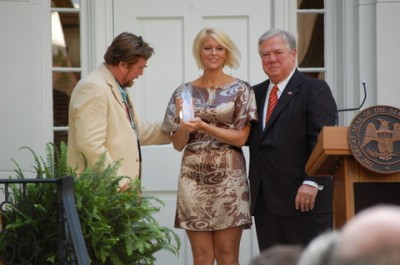 Showtime!
The event was held at the exclusive Marriott's Windsor Ballroom in downtown Jackson.
The band was from Nashville and we got one day of rehearsal. The musicians were great! I loved playing with them.
The show went really well! I wasn't even nervous. I guess I had too much fun to have time to be nervous.
This trip is something I always will remember. I had the best time.
We all got along great and I hope to see them all soon again!
Me and James Burton are playing together July 12 at the Countrygalan in Stockholm and July 13 in Örnsköldsvik. Looking forward to that! I had the privilege to get to know both him and his wife. They are awesome people. So don't miss that!
Mavis Staples also invited me, Hannah and Anorah (two lovely Swedish girls that also was on this trip with me) to come to her concert in August when she is playing at Berns, Stockholm. Maybe we could do something on stage together she said. That would be awesome.
I am now back in Stockholm and last Wednesday I played in Kungsträdgården at restaurangernas dag. A crowded Kungsan, niiice.
Bye folks!